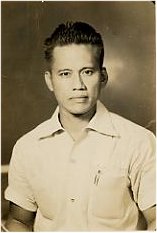 P-Maj. Timoteo Maranga Sr.
Grandmaster Timoteo Timor Maranga was one of the most battle tested Eskrimador of World War II. His hand to hand fracas with Japanese soldiers placed him in the league of other decorated World War II veterans like GM Leo Giron and GM Antonio Illustrisimo and was member of the legendary Bolo Battalion. Grandmaster Maranga started practicing Eskrima at the age of seven. One of his first instructors was father Gregorio Godoy Maranga a practitioner of the Demarina one of the obscure Eskrima systems of the pre-war period. His other instructors were Emilio Tadio, Faustino Tanio, Rogelio Ortiz, Emo Sagarino and Dalmacio Salinguhay. These lessons were a mix nuts of styles such as Florete, Sumbra(shadow), Batanguena Serrada and Batanguena Abierta..

GM Maranga grew up in Olango Island,Sta. Rosa a neighboring island of Mactan in the province of Cebu. His training in Eskrima was "hands-on" defending their tiny island from the intermittent Moro raids. With the contentious issue on the origins of Eskrima Arnis, it is worthy to theorize that Eskrima developed not as a military curriculum but as tribal art form practiced in defense against Moro raids that date back to the 12th Century. Many of the methods we know today originated from coastal towns of the Visayan Islands as far as Panay, Kinatarcan Daan Bantayan (birthplace of Kali Illustrisimo), Bohol, Negros, Siquijor, Masbate, Samar and many coastal towns in Cebu.
When GM Maranga move to mainland Cebu, he later met Eslao Romo a well-known Eskrimador in Pasil District. He also met some of the original founding fathers of Doce Pares like Doring Saavedra and Enciong Saavedra. His uncle Dading Melchades later introduced him to the founder of Balintawak Eskrima GM Venancio AnciongBacon. GM Bacon later renamed his system Kuwentada and eventually renamed Super Kuwentada by his protege Major Timoteo Maranga.
Major Timoteo Maranga later served the Police Force in Cebu City with courage, honesty and dedication that very few can emulate. He died in June 1988. He passed on his system to his son Master Rodrigo Drigo Maranga who continues to propagate and teach the Art of Combat Eskrima Maranga at the founders own house 82 B L-Flores St, Pasil Cebu City.
--------------------------------------------------------------------------------